The COP 26 UN Climate Change Conference, hosted by the UK in partnership with Italy, took place from 31 October to 12 November 2021 in the Scottish Event Campus (SEC) in Glasgow, UK.
In light of the worldwide effects of COVID-19, the COP Bureau of the United Nations Framework Convention on Climate Change (UNFCCC), with the UK and its Italian partners, had decided to re-schedule the conference initially slated for November 2020. Rescheduling the conference ensures that all parties can focus on the issues to be discussed at this vital conference and allows more time for the necessary preparations to take place. We will continue to work with all involved to increase climate ambition, build resilience and lower emissions.
WFEO have been working for the last 12 months with a selected group of the WFEO Committee on Engineering and the Environment (WFEO-CEE) members and other WFEO associates, and were present at COP 26 with several events and outcomes.
---
WFEO-led COP26 events (In-person events in Blue Zone)
– COP26 Capacity Building Hub Session | Deploying Global Youth Capacity in UN Organisations and Engineering for SDG 13 – November 4: Finance and Technology Day


A COP26 Capacity Hub Finance and Technology Day event organized by the Global Young Engineers Working Group on SDG13 together with Global Youth Climate Network (Y2Y Community of the World Bank Group).
This joint event between WFEO Global Young Engineers Working Group on SDG 13 and one of the Joint Statement signatories – the Global Youth Climate Network (GYCN), a volunteer initiative of the World Bank Group's young professionals, will showcase how the engineering / technology and finance sectors can build, and cooperate to build, the capacity of youth to achieve the targets for SDG13 Climate Action.
Time Slot
09:00 – 10:00

Speakers & Panelists
Prof. Gong Ke – WFEO President
Milda Pladaite – Initiator and Chair of the WFEO Young Engineers Working Group on SDG13, hosted by the WFEO Young Engineers/Future Leaders Committee
Kirils Holstovs – Engineer (Rail, Bridges & Structures), AECOM. UN Youth4Climate Pre-COP26 delegate, Latvia
Dr. Alona Kazantseva – Co-Chair of the Global Youth Climate Network
Michelle Meaclem – Civil Engineer, Tonkin + Taylor, WFEO Young Engineers Working Group on SDG13 Climate Action
Vladislav Kaim – UN Secretary General's Youth Advisory Group on Climate Change
Rachel Skinner – 156th President of the Institution of Civil Engineers, Executive Director, WSP
Dr Bapon Fakhruddin – Technical Director – Disaster Risk Resilience and Climate Resilience
Christopher Chukwunta – Vice President of the International Renewable Energy Systems Inc
Stacy Swann – CEO & Founding Partner, Climate Finance Advisors
Gopal Kumar Mohoto – Director and Chief Technology Officer, Advanced Dynamics
Paula McMahon – Regional Supervising Officer, Sir Robert McAlpine
– Increased climate action, building resilience and lowering emissions: Lessons learned – November 6

WFEO COP26 Side event, organized by the WFEO Action Group on COP26 and the Committee on Engineering and the Environment, in partnership with International Network of Women Engineers and Scientists (INWES) and Engineering Institute of Canada, showcased the experiences and lessons learned from the engagement of women and young engineers, and the worldwide engineering profession, for increased climate action on reducing emissions and building the climate resilience of cities and communities with an eye to the future.
Time Slot
16:45 – 18:00 – Multimedia Studio 2

Speakers
The Recording of the conference:
---
Virtual events that the WFEO Global Young Engineers Working Group on SDG 13 participated in
– Enhancing Climate Resilience through water by building the capacity of Youth: Organized by the COP26 Resilience Hub
– Closing the Youth Skills Gap to Fill Green Jobs of the Future: Organized by the International Chamber of Commerce
---
Further activities of the World Federation of Engineering Organisations Global Young Engineers Working Group on SDG13
– Climate Declaration: COP 26 Joint Statement of International Youth Organisations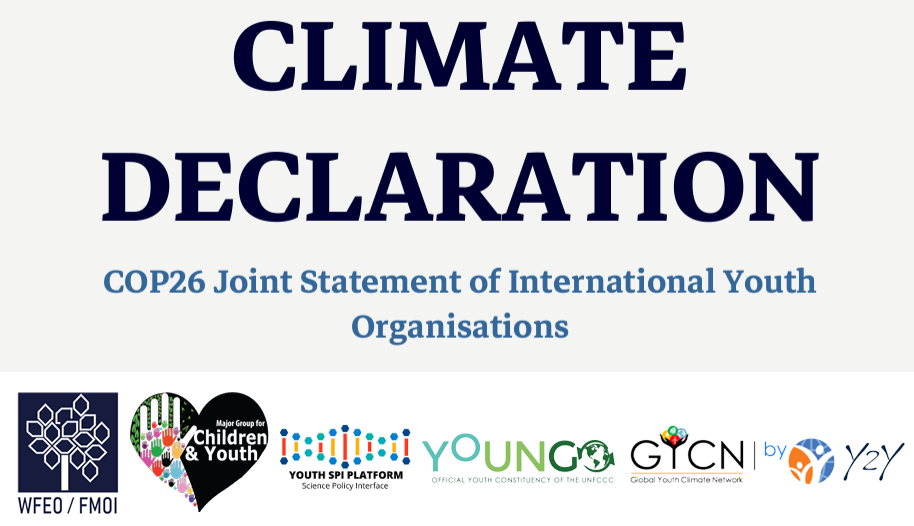 The aim of this Working Group on SDG 13 is to contribute to the sustainable development of countries. One key area of their work is the COP26 Joint Statement of International Youth Organisations. This statement provides 12 clear overarching climate policy recommendations for COP26 in the areas of climate change mitigation, adaptation & resilience and inclusive action.
The signatories of the statement include:
At COP26, the group was actively engaging with party delegations and has taken part in a number of bilateral meetings with delegation representatives to discuss the support of the youth-led policy recommendations and cooperation on meaningful youth involvement. The COP26 Joint Statement of International Youth Organisations has been personally passed to ministers and prominent public officials, including Alok Sharma (UK / COP26 President), Lord Goldsmith (UK), George Eustice (UK), Roberto Cingolani (Italy), Frans Timmermans (EU), John Kerry (USA) and Patricia Espinosa (UNFCCC Executive Secretary). The statement has also benefited from communications support from the High Level Champions Nigel Topping and Gonzalo Muñoz. The statement was also introduced and presented at a number of WFEO-led COP26 events, listed above.
This joint statement (available here) will be issued to United Nations Heads of Member States, COP admitted NGOs and IGOs, calling for endorsement of this declaration.
The Media Release is available here.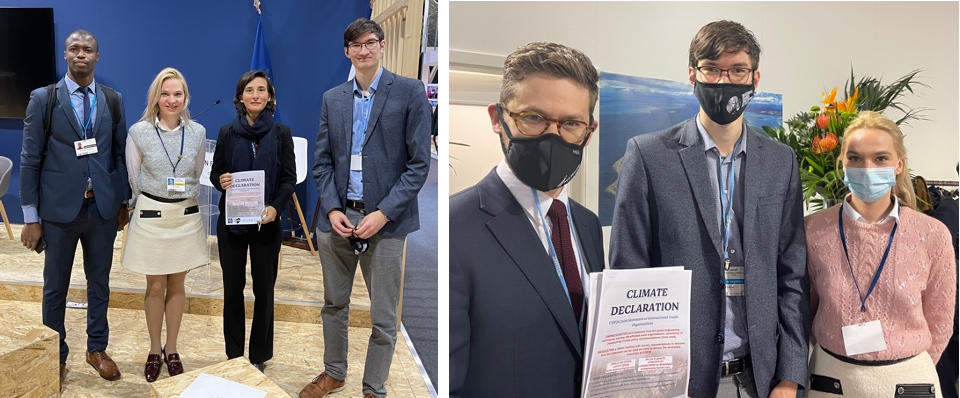 Picture of the WFEO Global Young Engineers Working Group on SDG13 with the members of the COP26 Parties' delegations


Milda Pladaite interviewed at the Sky News on 12th November, 2021, COP26 Blue Zone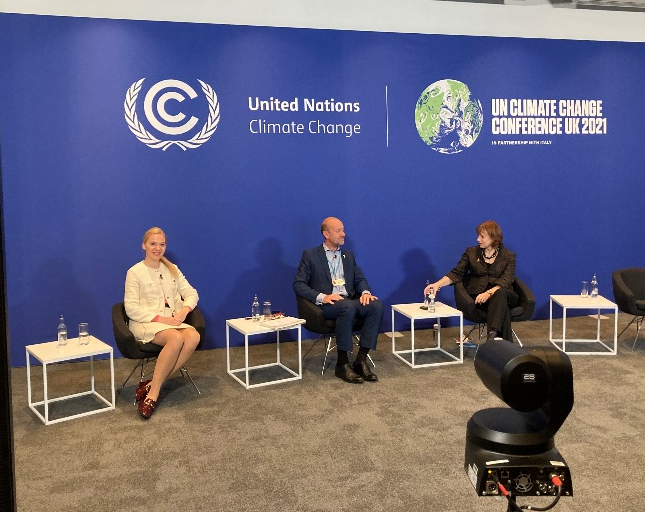 Picture from WFEO side event filming, Blue Zone Multimedia Room. Left to right: Milda Pladaite, Davide Stronati and Dawn Bonfield, WFEO delegates.