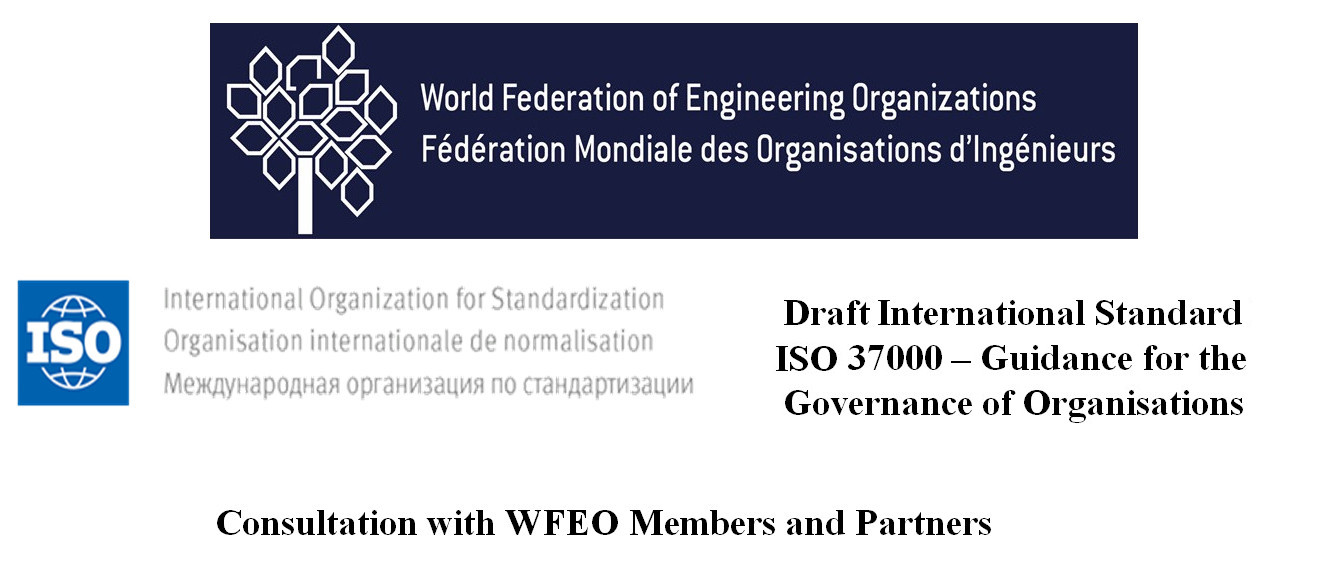 The International Standard Organisation (ISO) is a leading global organisation that develops standards for a wide range of topics and uses.
The World Federation of Engineering Organisations (WFEO) is a Category A Liaison member of the ISO Technical Committee 309 (TC 309) which is developing global standards on Anti Bribery, Governance and Compliance.
ISO 37000 – Guidance for the Governance of Organisations is a foundation standard and is the basis for other international standards in the areas of risk management (ISO 31000), compliance (Draft ISO 37002), and anti-bribery (ISO 37001).
The Draft International Standard ISO 37000 is now available for consultation.
This foundation standard provides essential guidance for all types of organisations, large and small, including professional engineering institutions.
WFEO members are invited to provide their feedback on this important standard. It is essential that members provide their views from every region of the world. This is the key reason for WFEO being an approved liaison member of this important ISO Committee.
Consultation closed on 15 August 2020.
Comments are to be sent to the WFEO Secretariat: secretariat[at]wfeo.org
WFEO will collate the comments and send a single response to the Chair of the ISO Working Group for this Standard.
Consultation:
The Webinar of Saturday 11th July explained the structure of the ISO 37000 Standard, key areas of interest to WFEO members.

Moderator: Papias Kazawadi Dedeki, Chair WFEO Anti-Corruption Committee
Speaker: Dr Marlene Kanga WFEO President 2017-2019, Member of technical committee TC309 Working Group 1 that developed the draft standard presented an overview and key aspects of the draft standard, followed by Questions & Answers.
The recording of the webinar is available in this page.

The Draft International Standard ISO 37000 is available here.
The template for comments is available here (Word file).
A Survey on the Standard that enables you to provide overall feedback is available here.
The presentation by WFEO Past President Marlene Kanga is available here
The Webinar Questions & Answer page is available here (Excel file)
Updates on the project can be seen on this page.
For more information:
Video recording of the WFEO consultation on draft international standard ISO 37000