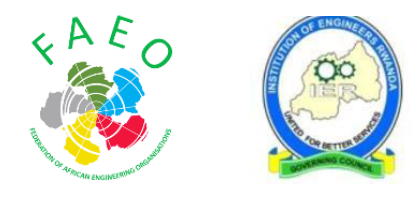 The Federation of African Engineering Organizations (FAEO) will organize the Engineering Policy and Presidential Inauguration Conference in Kigali, Rwanda, on 27 January 2023.
The expected outputs from the Presidential Inauguration Conference are:
The sharing of engineering best practices among participants to accelerate infrastructure development within AfCFTA (African Continental Free Trade Area);
Recognition of FAEO as a reliable source of intellectual capital for technologically skilled engineering professionals, who can contribute to stronger labor market for Africa;
Understanding of benefits to accelerate, groom and grow indigenous companies and individuals through private sector, in developing homegrown solutions and Export of Services within AfCFTA.
Discussions will be stimulated by keynote speakers under the theme "Unleashing opportunities in the AfCFTA implementation" seeking to create momentum and impetus to participants in order to motivate fruitful discussions for better resolutions, directed to the Africa We Want. Notable addresses will be delivered by the following during the event:
Address by the Guest of Honour from the Government of Rwanda.
Address from AfCFTA on role of Engineering in trade facilitation.
Ing. Dr. Boakye Kwame, Past President of Ghana Institution of Engineering (GhIE) and current Chairman of Ghana Engineering Council – Topic: "AfCFTA is going nowhere without Engineering".
Prof. Dr. Amon Murwira, Minister of Higher Education & Tertiary Education Innovation, Science and Technology Development in Zimbabwe. – Topic: "Heritage based Education 5.0 – Design for Industrialization and Modernization".
H.E. Eng. Dr. Abarham Belay, Minister of Defence of the Federal Democratic Republic of Ethiopia – Topic: "Infrastructure Development in Africa – A case of Great Ethiopian Renaissance Dam".

For more information: