WFEO Webinar on Engineering in Poverty Alleviation
March 6, 2021 @ 12:00 pm

-

2:00 pm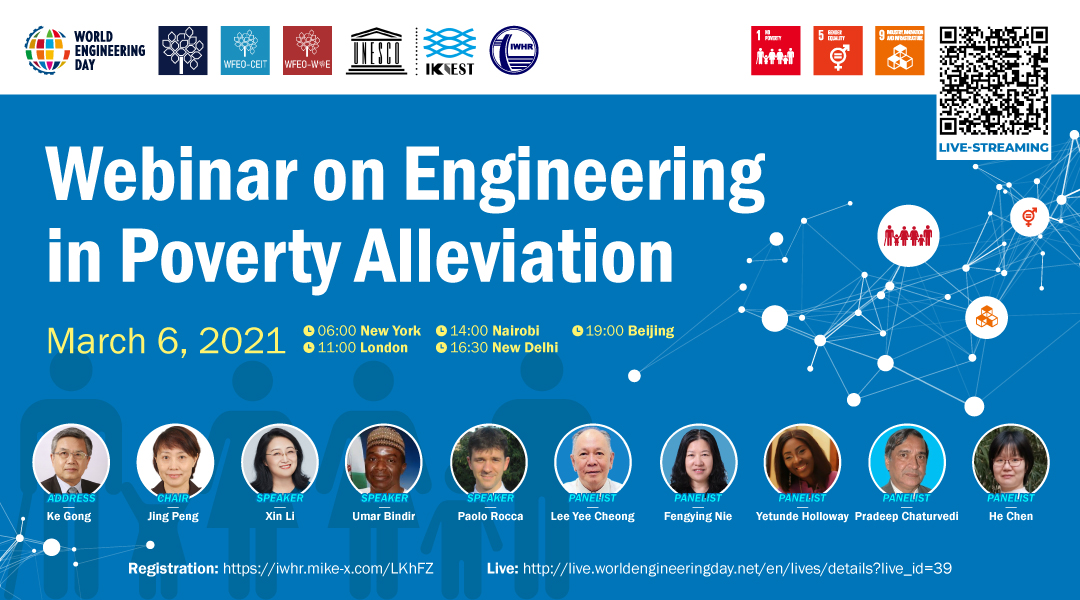 Globally, the number of people living in extreme poverty declined from 36 per cent in 1990 to 10 per cent in 2015, but more than 700 million people, or 10 per cent of the world population, still live in extreme poverty today. The economic fallout from the COVID-19 could increase global poverty by as much as half a billion people. No Poverty, as the first target of the Sustainable Development Goals, to achieve it, we still need a long way to go.
Fortunately, we have done a lot of work and research and some countries already made significant achievements in against poverty. Being one of the activities of the 2nd World Engineering Day (WED) celebration, this webinar aims to share the engineering experiences in poverty alleviation by illustrating the successful cases from the globe, and help the developing countries, especially the countries in Southern Asia and sub-Saharan Africa to make progress in eradicating extreme poverty.
This webinar will be chaired by Dr. Jing Peng, Chair of WFEO Committee on Engineering for Innovative Technologies (CEIT), Vice President of China Institute of Water Resources and Hydropower Research.
Program
I. Opening Remarks
II. Keynote Speeches
Ms. Xin Li, Deputy Director General, International Poverty Reduction Center in China (on engineering and poverty reduction in China)
Engr Umar B. Bindir PhD, FAEng, FNSE, CEng, Special Assistant to the President and Senior Technical Adviser to the Minister, Federal Ministry of Humanitarian Affairs, Disaster Management and Social Development (FMHADMSD), Nigeria (on poverty eradication in Africa and other developing countries)
Dr. Paolo Rocca, Associate Professor, Department of Information Engineering and Computer Science, University of Trento (on AI and Agriculture in Alleviating Poverty)
III. Panelist Speeches
Dato' Ir. Dr. Lee Yee Cheong, Commissioner of the UN Broadband Commission for Sustainable Development; Past President of WFEO (on the nexus between SDG 1 and SDG 5 for the developing world)
Dr. Nie Fengying, Deputy Director General, Agricultural Information Institute (AII); Deputy Director General, Center for International agricultural Research (CIAR), Chinese Academy of Agricultural Sciences (CAAS) (Sustainable Poverty Reduction Approaches in China and Other Countries)
Ms. Yetunde Holloway, Chair of WFEO-WIE (on poverty reduction and gender equality)
Mr. Pradeep Chaturvedi, Vice President, World Environment Foundation (India for Engineering Interventions for Poverty Alleviation)
Dr. He Chen, China Institute of Water Resources and Hydropower Research (on how water engineering helps poverty reduction)
IV. Discussion and Closing Remarks
Webinar details
DATE: March 6, 2021 | Online
TIME: 06:00 New York | 11:00 London | 14:00 Nairobi | 16:30 New Delhi | 19:00 Beijing
LIVE: http://live.worldengineeringday.net/en/lives/details?live_id=39
Registration at: https://iwhr.mike-x.com/LKhFZ (please connect with another device if the link is not accessible)