WFEO Committee on Young Engineers / Future Leaders Webinar series "Engineering the Future" No3 – Volunteering for the Future
December 8, 2020 @ 8:30 am

-

9:30 am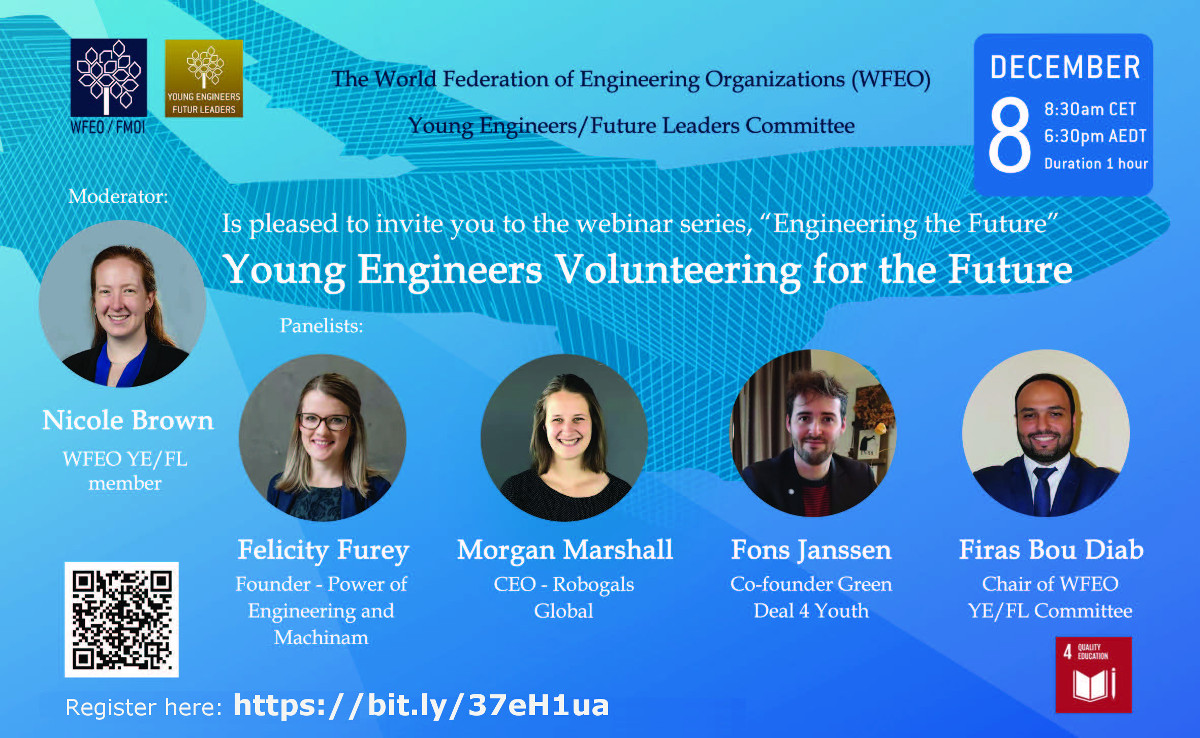 The WFEO Committee on Young Engineers / Future Leaders is pleased to invite you to the webinar series "Engineering the Future" No3 – Young Engineers Volunteering for the Future.
Synopsis
Engineers have a unique skill-set which can be valuable in a range of different areas. This session will share the experiences of young engineers who are committed to volunteering in their local communities and around the world to inspire the next generation and share their engineering expertise to make a difference.
Panelists will share background and their volunteering experiences:
What does being a volunteer mean to you?
Many people say that people volunteer to make a difference, Why do you volunteer?
Benefits of volunteering:
What skills have you acquired?
How has volunteering helped or driven your engineering career?
Sharing your passion:
How do you motivate others?
What is your favorite memory/experience which you have gained through volunteering?
Advice to others:
How would you recommend people get into volunteering?
One piece of advice to people who do not know how to find their passion?
Webinar details
Date and Time: Tuesday, 8 December 2020 at 8:30am CET via Zoom; Duration 1 hour.
Moderator: Nicole Brown, WFEO YE/FL member.
Speakers:
Register in this page to attend.
The webinar will be streamed in the Youtube Channel of WFEO.
After registering, you will receive a confirmation email containing information about joining the webinar via Zoom.
We are looking forward to your participation.
For more information: