Webinar: "Waste and Water data solution to reduce environmental impact" – WSIS Forum 2020
June 22, 2020 @ 1:00 pm

-

2:00 pm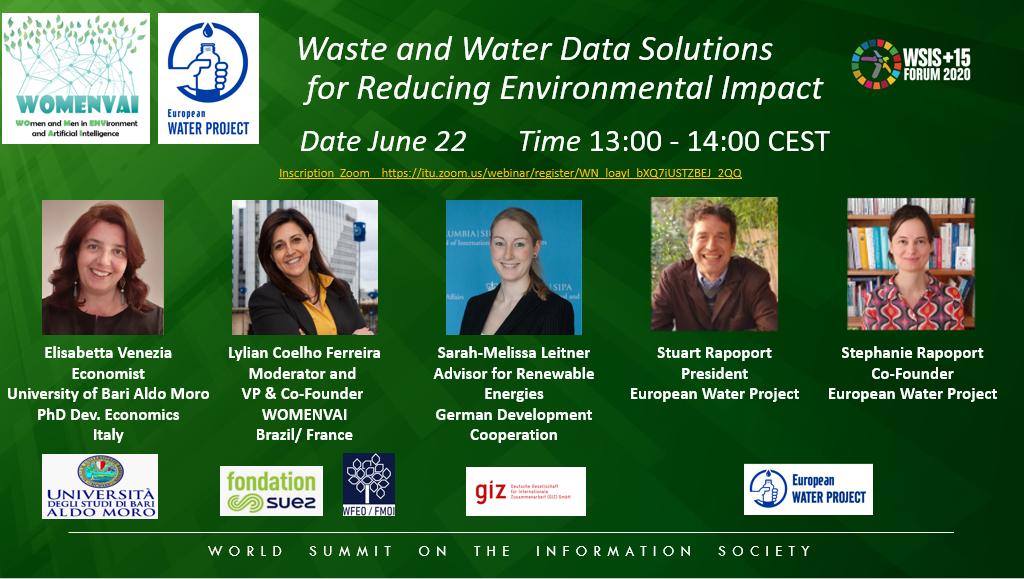 The 2020 edition of the World Summit on the Information Society (WSIS) Forum will be held online from 22 June onwards, featuring a weekly programme, including a series of thematic/country workshops, high-level policy sessions, special tracks on various thematic areas, knowledge café, a Hackathon, and exhibition addressing issues that are critical to WSIS implementation and follow-up in a multistakeholder setting. The final week of the Virtual WSIS Forum 2020 will take place on 7-10 September 2020.
The first Workshop of the World Summit on the Information Society (WSIS) Forum 2020 will be held online on 22 June, 13:00-14:00 CEST (UTC+2) will be entitled "Waste and Water data solution to reduce environmental impact" and will be organized by Womenvai and the European Water Project.
Lylian Coelho Ferreira, member of the WFEO Committee on Engineering and the Environment and co founder of Womenvai indicates that "Combining Private and Public sector, Engineers and Economists, Women and Men in an interactive high-level dialogue, we will present some of our actions and return from experiences, using the exponentially available data, to foster the sustainable management of water, wastewater, e-waste and ecosystems, being aware that lack of water infrastructures, solid waste management and climate adaptation are priorities".
European Water Project will present a concrete case example of how collaboratively contributed open data can be used to increase the use of tap water and eliminate the reliance on single-use plastic water bottles.
Member of the WFEO Executive Council and Chair of the Working Group on Water (WGoW) Tomas Sancho, will speak at the webinar.
The registration is available at the following page.