WFEO Webinar: HLPF 2020 – Side-event
July 9, 2020 @ 2:00 pm

-

3:00 pm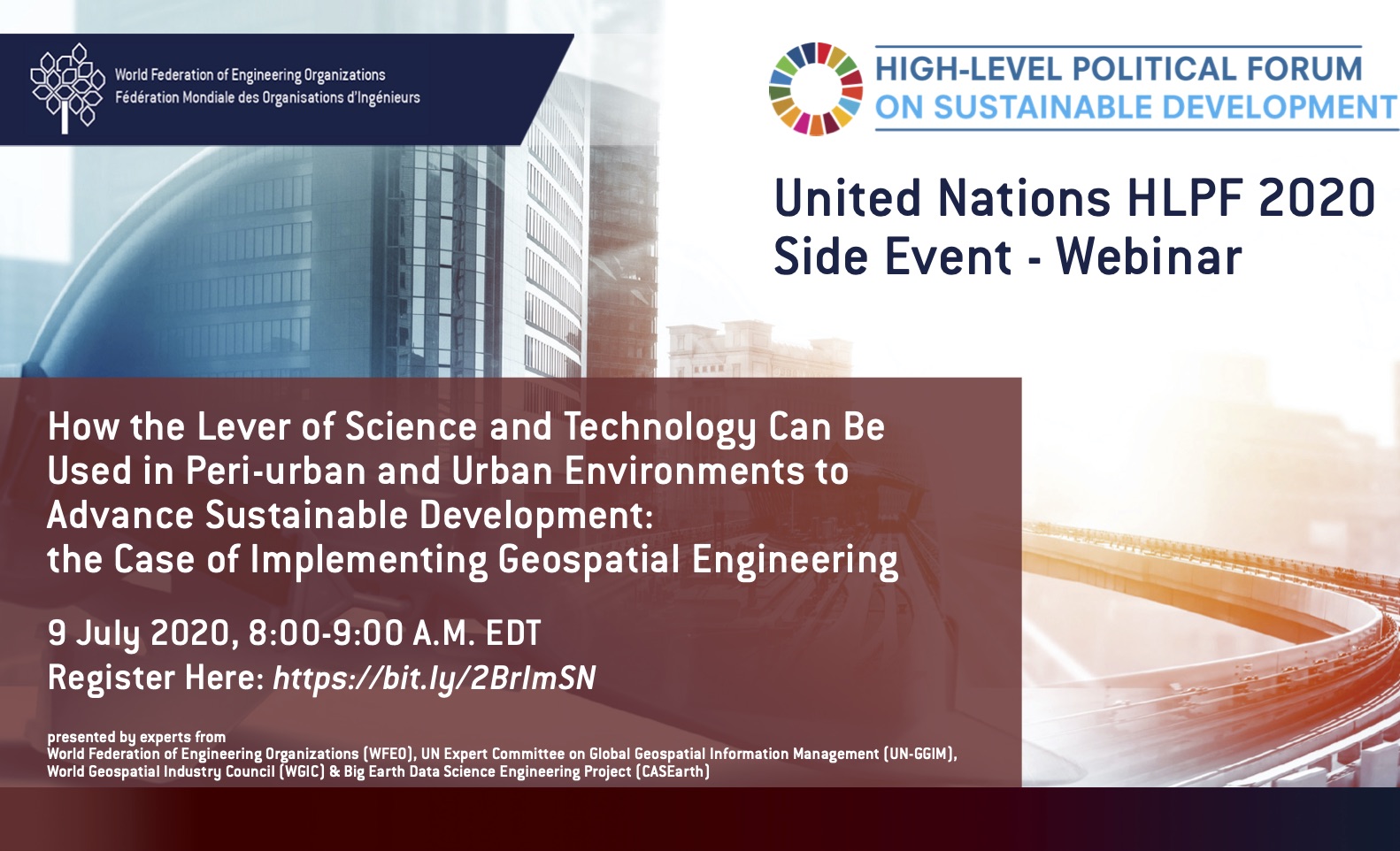 HLPF 2020
Accelerated action and transformative pathways: realizing the decade of action and delivery for sustainable development
How the lever of science and technology can be used in peri-urban and urban environments to advance sustainable development: the case of implementing Geospatial Engineering
organized by The World Federation of Engineering Organizations, co-leader of the Scientific and Technological Community Major Group
with support of the Permanent Mission of the People's Republic of China to the United Nations
Webinar on 9 July 2020, 8:00-9:00 am EDT / 2:00-3:00 pm CET.
The Webinar will be held by Zoom, and registration is required, through the following link: https://bit.ly/2BrImSN
To achieve the 17 SDGs and to leave no one behind, integrated geospatial technology and building information modelling (BIM) are found to be critical. Geospatial and BIM solutions, enabled by the fourth industrial revolution (4IR) technologies such as Artificial Intelligence (AI), Internet of Things (IoT) or Big Data, can give accurate and high-resolution data, techniques and tools to provide a balanced assessment and solutions.
Introduction
Dr He Fuxiang, Scientific Counsellor, Chinese permanent mission to the UN
Moderator
Prof. Gong Ke, President World Federation of Engineering Organisations
Keynote speakers
Mr Sanjay Kumar, CEO World Geospatial Industry Council, Launch of the Joint Publication by World Geospatial Industry Council, World Federation of Engineering Organisations and UN Committee of Experts on Global Geospatial Information Management: "GEOBIM Solutions for Resilient Infrastructure"
Mr Gregory Scott, Secretariat, UN Committee of Experts on Global Geospatial Information Management "Geospatial Engineering: A Lever to Assist Developing Countries to Bridge the Geospatial Digital Divide"
Dr Marlene Kanga, Immediate past president, WFEO, and project leader for WFEO on the publication to be released: "Implementation of Geospatial Technologies for Sustainable and Smart Cities"
Prof. Guo Huadong, Director-General of the Institute of Remote Sensing and Digital Earth (RADI), Laboratory of Digital Earth Science, Aerospace Information Research Institute, Chinese Academy of Sciences (CAS): "Big Earth Data for Urban and Peri-urban Development"
Discussants
Prof. Raida Al-Alawi, Director of Technology Development at BFG International, Chair of ICT committee of the Federation of Arab engineers, board member of the Bahrain Society of Engineers
Prof. José Vieira, President-Elect of WFEO
For more information:
Webinar presentation on the UN website