Webinar: Covid-19 impact on the engineering and Construction sector
June 27, 2020 @ 8:30 am

-

1:00 pm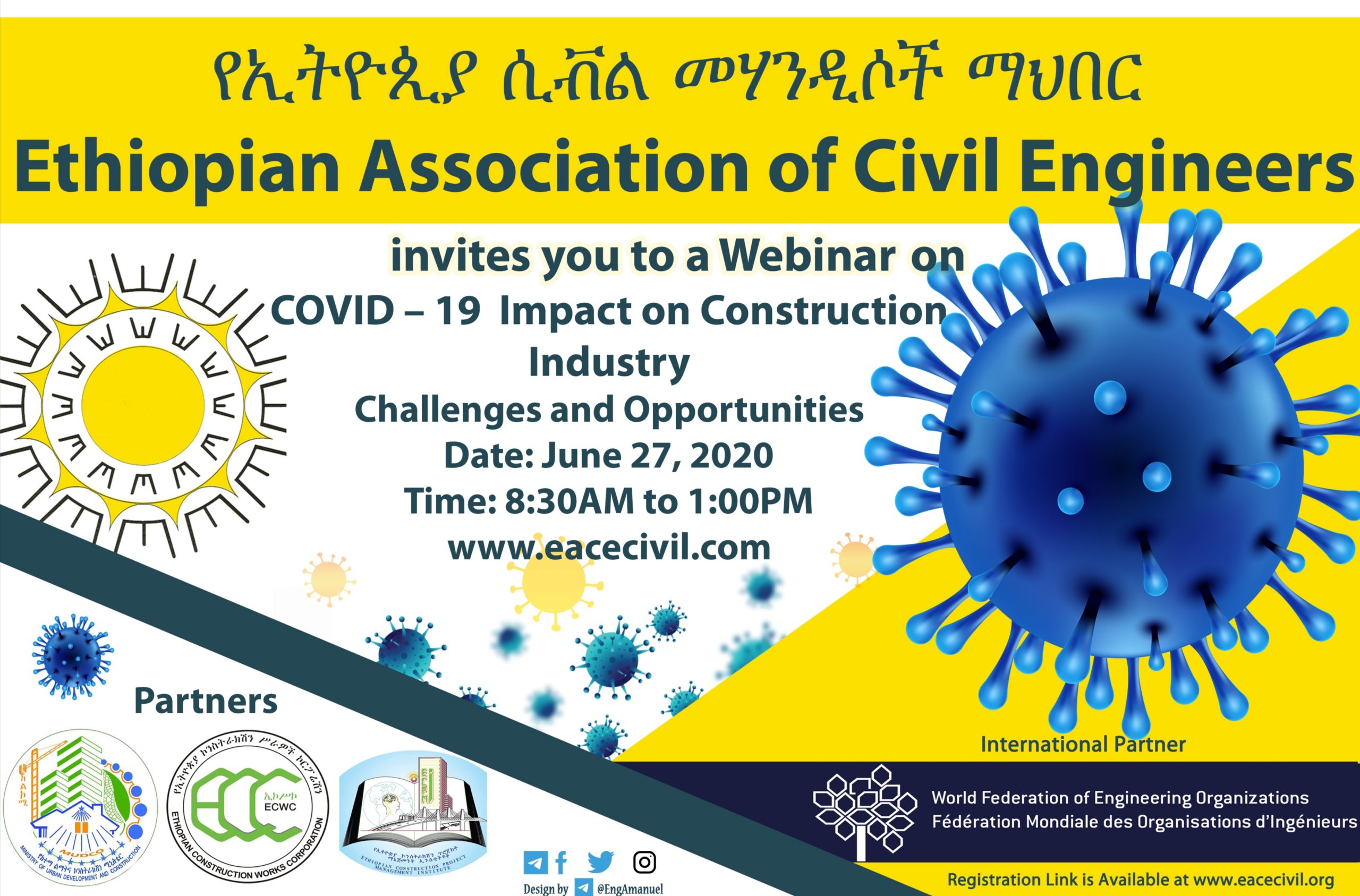 The Ethiopian Association of Civil Engineers (EACE) invites you to a webinar on the impacts of COVID-19 on the construction industry of Ethiopia.
As the number of COVID-19 cases continues to rise in the world, the effects of the virus both domestically and internationally increase. The construction industry is experiencing impacts on their operations because of COVID-19.
These impacts include, among others, schedule delays, workforce disruptions, equipment and supply chain disruptions, reduced productivity due to on site health and safety measures (e.g., social distancing, staggering of work, enhanced sanitary measures, etc.), additional costs, and financing restrictions or cash flow shortages.
The challenges and possible opportunities (if there are) of COVID-19 on the construction industry of our country will be discussed on the event.
WFEO Executive Vice-President and Federation of African Engineering Organisations (FAEO) Past President Mustafa Shehu will speak at the event.
The registration form to be part of this zoom event is available in this link.
Date: June 27, 2020. Time: 8:30 am – 1:00 pm local time (CET: 7:30 am – 12:00 pm).
Conference schedule
| Time | Activity | Executors |
| --- | --- | --- |
| 8:30 – 8:45 | Welcoming Remarks | Moderator – Eng. Dawit Kebede |
| 8:45 – 9:00 | Opening Speech | Eng. Yonas Ayalew, President of EACE |
| 9:00 – 9:15 | Keynote Speech by Guest of Honor | H.E. Eng.Aysha, Minister of Ministry of Urban Development and Construction |
| 9:15 – 9:30 | Opening Remarks | Eng. Mustafa Shehu, WFEO Executive Vice-president |
| 9:30 – 9:35 | Introduction of Speaker | Moderator – Eng. Dawit Kebede |
| 9:35 – 10:05 | COVID-19 Impact on the Construction Industry | Eng. Damtew Wolde, General Manager Life Consult PLC |
| 10:05 – 10:15 | Break | |
| 10:15 – 10:20 | Introduction of Speaker | Moderator – Eng. Dawit Kebede |
| 10:20 – 10:55 | COVID-19 Impact on the Construction Industry | Dr.Ing. Woubishet Jakale, General Manager at JCMC |
| 10:55 – 12:00 | Discussion | Moderator – Eng. Dawit Kebede & Participants |
| 12:00 – 12:20 | Closing Remarks | Eng. Yonas Ayalew, President of EACE |
| 12:20 | End of Webinar | |