NGO CSW65 Parallel Event – Empowering Women in STEM is Essential for Achieving the UN SDGs
March 20 @ 1:00 pm

-

3:00 pm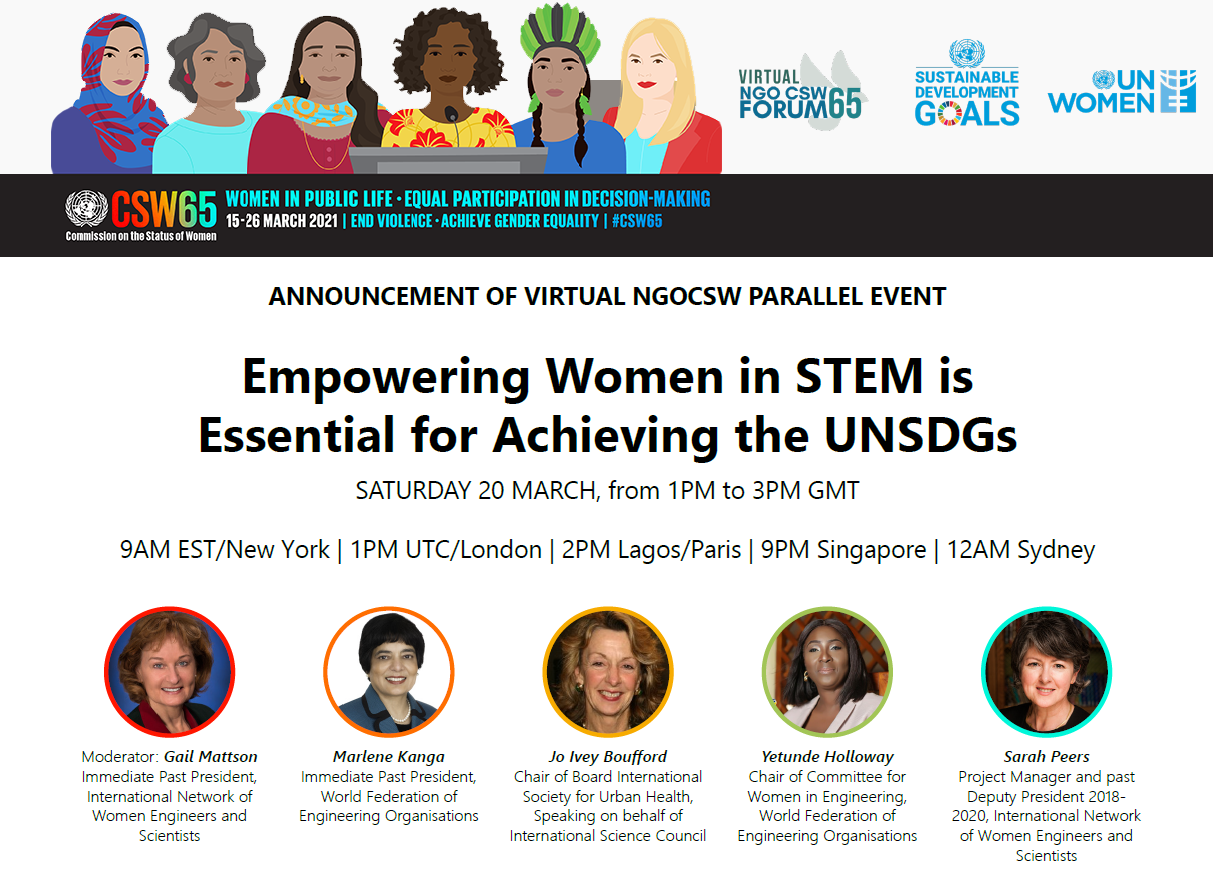 The International Network for Women Engineers and Scientists (INWES), the World Federation of Engineering Organizations (WFEO) and the International Science Council (ISC) together represent women in science, technology, engineering, and math (STEM) across 100 nations.
Join us to discuss why it is important to empower women to take part in all areas of STEM. Gender equality is essential for business growth, for innovation, for the knowledge economy, for achieving the UN Sustainable Development Goals.
The talks in this CSW65 Parallel Event will cover the diversity imperative; the gender gap in mathematical, computing and natural sciences; developing capacities in Africa; and leadership. These will be followed by a moderated discussion session. You are encouraged to bring your questions, your experiences, your ideas to share.
This event is free to attend.
Step 1 Register with NGOCSW – Go to the NGO CSW Forum page ngocsw.org/ngocsw65 and click on "Register to become an Advocate". This will take you to the NGOCSW65 Forum Advocate Registration page.
Step 2 Add this to your Agenda of events – Login to the NGOCSW65 Virtual Platform and look for this session, or search for "INWES" in Schedule>Agenda. Click on the + icon to add to Schedule>My Agenda.
Step 3 Optional – On the Parallel Event page for this session, check out the Chat/Polls/Files/People for more.
For more help – See the NGO CSW65 Virtual Forum Tutorial Videos links on ngocsw.org/ngocsw65. For more information on this event, contact info@inwes.org.
Webinar details
Date: SATURDAY 20 MARCH, from 1PM to 3PM GMT
9AM EST/New York | 1PM UTC/London | 2PM Lagos/Paris | 9PM Singapore | 12AM Sydney
For more information:
Written Statement on the importance of Women in STEM
WFEO Podcast for World Engineering Day
ISC Gender Equality in Science programme