High-level Political Forum 2019: Empowering people and ensuring inclusiveness and equality
July 9, 2019

-

July 18, 2019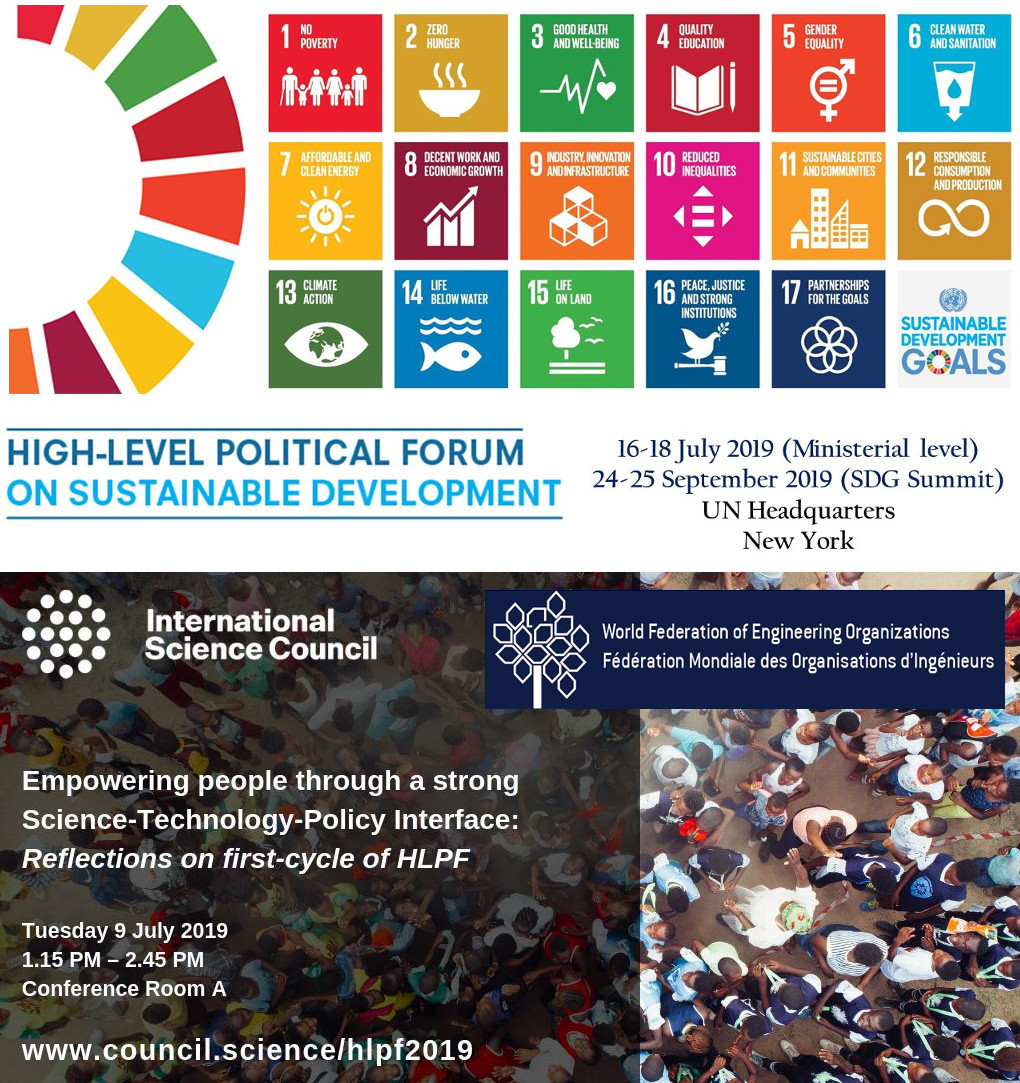 The seventh session of the UN High-level Political Forum on Sustainable Development (HLPF 2019) under the auspices of the UN Economic and Social Council (ECOSOC) this year will focus on "Empowering people and ensuring inclusiveness and equality".
The session will take place from Tuesday, 9 July, to Monday, 15 July 2019, followed by a three-day ministerial meeting convening from Tuesday, 16 July, to Thursday, 18 July 2019, held jointly with ECOSOC's annual high-level segment.
The 2019 Forum will conduct in-depth reviews of five Sustainable Development Goals (SDGs): SDG 4 (quality education), SDG 8 (decent work and economic growth), SDG 10 (reduced inequalities), SDG 13 (climate action), and SDG 16 (peace, justice and strong institutions).
It will also review SDG 17 (partnerships for the Goals), which is reviewed each year.

The "Scientific and Technological Community Major Group" – composed by WFEO and the International Science Council (ISC) – will organize the Side Event "Empowering People Through a Strong Science-Technology-Policy Interface: Reflections on the first cycle of the HLPF" on Tuesday 9 July 1h15 – 2h45 PM
This side event will provide an opportunity to reflect and discuss on the lessons learned in the science-technology-policy interface within the context of the first cycle of the HLPF.
Dr. Lucilla Spini, ISC Senior Science & Policy Officer and Dr. Reginald Vachon WFEO Executive Vice President, will be the moderators.
WFEO President Dr. Marlene Kanga will be one of the panellists.
For more information:
The presentation of the Scientific and Technological Community Major Group Side event on ISC website