See all the episodes of the Engineering Leaders Podcasts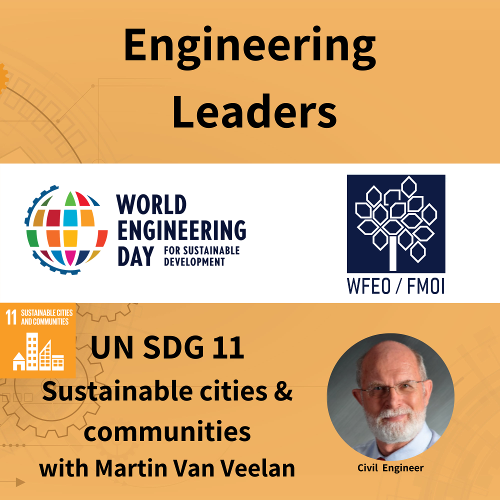 This is a "close" copy of the words that were spoken in this episode
It is not 100% accurate.
The guest was Martin Van Veelen, Chair of the Working Group on Infrastructure Report Card (WGIRC).
Mel De Gioia 0:24
Welcome to Engineering Leaders mini series in the lead up to World Engineering Day for Sustainable Development 2020. This mini series is being supported by the World Federation of Engineering Organisations. My name is Melanie and my co host and our podcast's resident engineer is Dominic. Today's episode is on the United Nations Sustainable Development Goal number 11 – sustainable cities and communities.
Dom 0:49
Our guest today received his degree in civil engineering with a master's in water utilisation engineering and a PhD in aquatic health. He holds the position of adjunct professor at the Central University of Technology Free State. He has 40 years experience in engineering and has been very active in numerous engineering organisations. He's currently a member of the WFEO UN relations committee and the STC support group. He's also the chairperson for the WFEO global Infrastructure Report Working Group. Our guest today is Dr. Martin Van Veelen.
Mel De Gioia 1:20
Growing up Martin had intended to become a chemist. However, he could not find the money to achieve this dream. Luckily, the government of the time was offering to put students through university as engineers specifically for the Department of Water affairs. Martin was brave enough to take this opportunity.
Guest 1:38
And I am so happy. I'm so glad that happened in my life. Because in actual fact, the way my career is gone, I've been able to live out my scientific and chemistry interest as well.
Mel De Gioia 1:59
This mini series is all about the United Nations Sustainable Development Goals. And today we're going to be speaking to you about specifically number 11, which is sustainable cities and communities. I just wanted to start it off with what do you want to tell us about that specific goal from your understanding of what it means?
Guest 2:18
The world is changing. That's a very common statement, but in actual fact it is.
We are becoming more and more urbanised. It's a good thing. Because we need rural areas for food production.
If we start living to spread out, then that will affect food security.
But what allows us to live close together in cities is efficient transportation to get from where you live to where you work, water supply and quality water at the right time at the acceptable level of service. You know in Africa, it is people are deemed to have access to water. But there are so many interruptions in the supply and they have to fetch the water carry it. So in the cities you need water when you when you need it. You need electricity or energy. In many cities in Africa, energy is so unreliable or so expensive that people still cook using charcoal. And then of course, you have to remove waste and you have to remove it correctly and dispose of it correctly. So this is safely put away. And the biggest issue for that respect is sewage. Lagos is a city of 10 million people and there's not a formal sewage system. But well at the coast, it's flat, sandy soil, and a lot of people are dependent on groundwater.
Mel De Gioia 4:15
I don't know if I like where this is going.
Guest 4:17
You get the picture.
Mel De Gioia 4:20
So the Sustainable Development Goal about sustainable cities and communities is about a whole range of things. It's how your food gets your table. It's how you get from home to work. It's it's how your water comes in and how your waste goes out, your waste as in excrement, as well as rubbish and things. So it's about all those things combined into one neat little package. How are you as an engineer working on that actual goal?
Guest 4:52
I'm not a design engineer. I'm a the planning engineer. So I look into the future. See what is going to happen and what will be needed. But in terms of the work that I do for the World Federation of Engineering Organisations is to prepare, let's call it
the Global Infrastructure Report, which cross cuts across most of the SDGs.
It considers water, it considers transportation, sanitation, energy, the whole lot that has to do with infrastructure. For having to be assigned somewhere, I was assigned to SDG living but it goes a bit wider. Although SDG live in sustainable cities is all about transportation. It's all about energy and water and sanitation, waste removal, health, safety, the whole lot, then you need to know the available infrastructure. Is it in a good condition?
And are you spending enough money on maintenance and operations? Which is a huge, big problem.
Mel De Gioia 6:10
How long would this report actually take to bring together, come together?
Guest 6:15
I have a year and a half to do it. It has to be finished early in 2021. It's going to be a challenge.
Mel De Gioia 6:25
Yes. Is that what you'll be working on full time? All throughout 2020 and 2021?



Guest 6:32
Yes and no. The work that I'm doing on that report is volunteer work. I still have my professional work.
Dom 6:43
What was your inspiration in aligning your work to UN SDG 11?
Guest 6:48
When the Millennium Development Goals started to come to an end in 2015, then we sat around the table as group of engineers and we started to talk. How can we as engineers, contribute to what are now the Sustainable Development Goals to help to achieve those goals. Our work, obviously building boats, water supply, sanitation, that all supports those goals. But as an engineering organisation, how can we focus the attention of the governments in the world on infrastructure, not only development, but also operation and maintenance, because that forms the basis of achieving all the goals. If you want to have a good education, you need schools. It's as simple as that. And the school is a building, that's infrastructure. So all of that is in infrastructure, and all of that engineers are involved. One way or another. The school needs electricity. The school needs water. It needs sanitation. So all of that has to be included and the school hopefully, is of a good enough quality that it doesn't fall down.
Mel De Gioia 8:28
Yeah. And so you're all sitting around going, how can we align with the goals and you kind of saw the connections between all of it to sustainable cities?
Guest 8:43
Yes, but not I mean, how can we align but also, how can we as an engineering profession, become more visible. And by doing that, advertise the positions so that we can attract more people to become engineers. We need engineers.
Mel De Gioia 9:05
Yeah. So you're using the goals as a way to promote to society that we are working towards the global good here. And that's what engineers are doing. I like that.
Guest 9:18
Sort of make people aware that when they open the tap and water comes out, and it's clean water, that simple act of opening the tap is supported by a whole range of infrastructure provided by engineers.
Dom 9:35
Sounds good to me. Are there any particular goals that you hope to achieve in 2020 for UN SDG 11?
Mel De Gioia 9:42
Besides the report.
Guest 9:43
That becomes a bit difficult.
I hope to involve more organisations, in what we are doing.
Here in South Africa I've been talking to the farming community, and they are well aware that they need roads to get a produce to the market. So they are also very interested in seeing that someone is held accountable for not only providing but also maintaining infrastructure.
Because infrastructure in the end is what the nation or a community owns.
That's the assets. And the government is supposed to look after those assets and keep them in good working order. We fight for it with our tax money.
Mel De Gioia 10:41
Yeah. I just wanna say thank you so much for joining us today.
Dom 10:46
Great speaking with you.
Guest 10:48
I enjoyed this.
Mel De Gioia 10:50
And thank you for tuning into Engineering Leaders as we prepare you for the 2020 World Engineering Day on Sustainable Development. We hope you're enjoying our mini series which is brought to you with the support of the World Federation of Engineering Organisations. The best way for you to show your support for our show is to tell people either in person or write a review. Just spread the word. Seriously, it is that easy. We look forward to you and your friends joining us next time when we bring you another episode with one of our engineering champions.
Transcribed by https://otter.ai
Martin Van Veelen received his degree in civil engineering with a Masters in Water Utilisation Engineering and a PhD in Aquatic Health.
He holds the position of adjunct professor at the Central University of Technology, Free State
Dr Van Veelen has 40 years experience in engineering and has been very active in numerous engineering organisations. He is currently a member of the WFEO/UN Relations Committee and the STC Support Group. He is also the Chairperson for the WFEO Global Infrastructure Report Working Group.