WFEO-YEFL Side event at COP27 – Utilising expertise of the youth to bridge the science-policy divide and improve access to finance
November 10 @ 5:30 pm

-

7:00 pm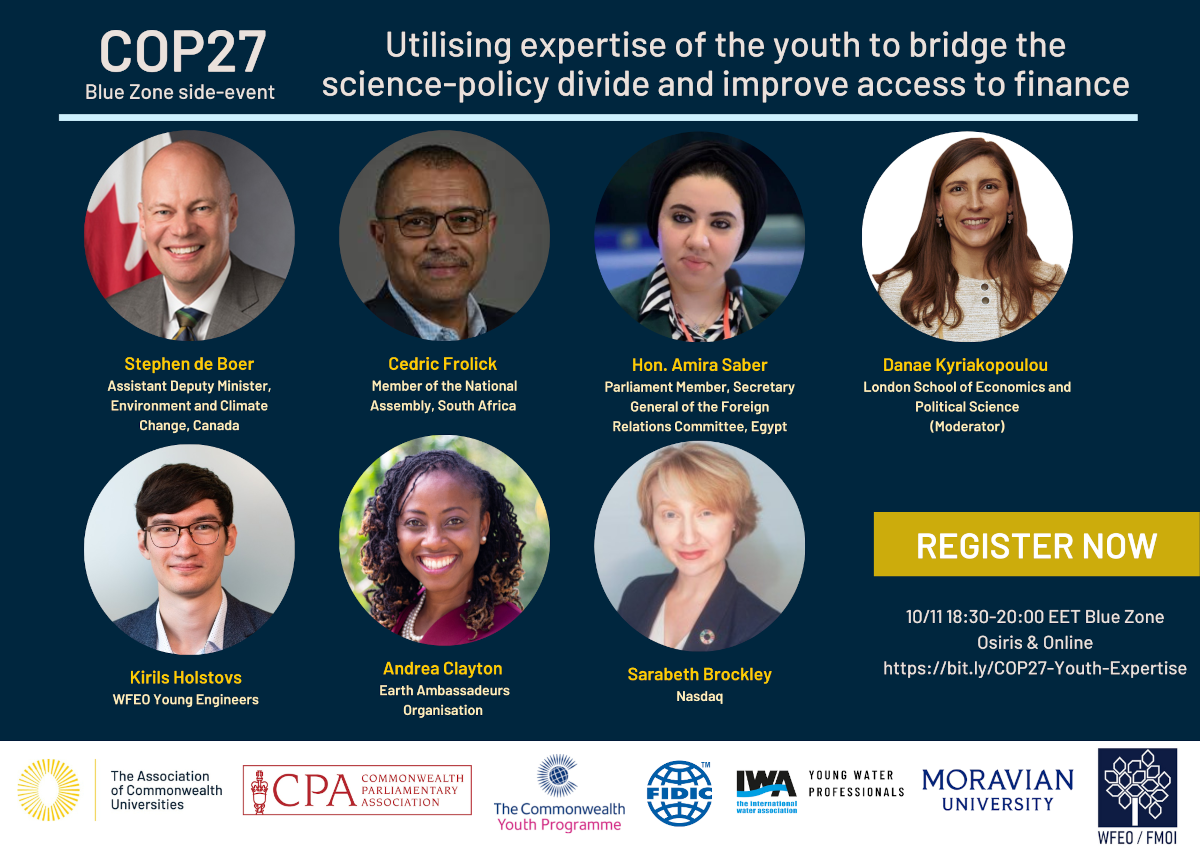 The WFEO Committee on Young Engineers / Future Leaders (YEFL) will co-host the side event "Utilising expertise of the youth to bridge the science-policy divide and improve access to finance" at the UNFCCC COP27 Conference in Sharm el-Sheikh, Egypt, on 10 November, at 18:30 – 20:00 EET (Eastern European Time) / 17:30 – 19:00 CET (Central European Time).
This is an hybrid event that will take place in the Osiris room (300). Follow the livestream on this link.
This side event has been included in the official and first ever Youth Kit for COP.
The theme will be "Engagement of young engineers, scientists and youth with lawmakers to bridge the science-policy divide and improve access to climate finance to deploy sustainable solutions tailored to local socioeconomic needs, including in water and energy."
Young people have been pivotal in elevating a number of critical issues to the forefront of political agendas, through a combination of activism, advocacy and thought leadership.
However, it is paramount that all barriers to further youth engagement and agency are reduced or eliminated to establish, highlight and advance the youth agenda at all levels of political engagement. The benefits of youth inclusion in decision-making rest on the fact that they possess perspective, knowledge and expertise which can engage lawmakers to produce the required structural change for tackling the emerging climate issues.
The event will feature an intergenerational dialogue between lawmakers and young leaders and will provide case studies from across the world (with perspectives from developed and developing countries, SIDS and LDCs). The conversation will be solution-oriented and will be held in the context of bridging the science-policy divide and improving access to climate finance, with identification of barriers and opportunities.
The event will also serve as a start for the conversation on a best-practice and widely applicable framework for youth engagement, which will be produced by the organisers and their partners.
Before COP27, the organisers intend to launch a qualitative consultation with the key stakeholders (youth organisations and government structures and individual policymakers/intergovernmental organisations), as well as a quantitative consultation which would be shared widely. The consultations will identify barriers and opportunities for youth engagement in policymaking and will help inform the basis for the framework for youth engagement to address the science-policy divide, boost climate action and enhance representation of young people.
The event will showcase the findings from the pre-COP consultations and set the context for the intergenerational panel discussion. Following COP27, the organisers will continue working closely with the key stakeholders to establish the framework and work on its implementation with governments, IGOs and youth NGOs.
The speakers: