WFEO Consultation Webinar with members of FIDIC on UNESCO IEA WFEO Draft Review IEA GAPC
February 4 @ 12:00 pm

-

1:00 pm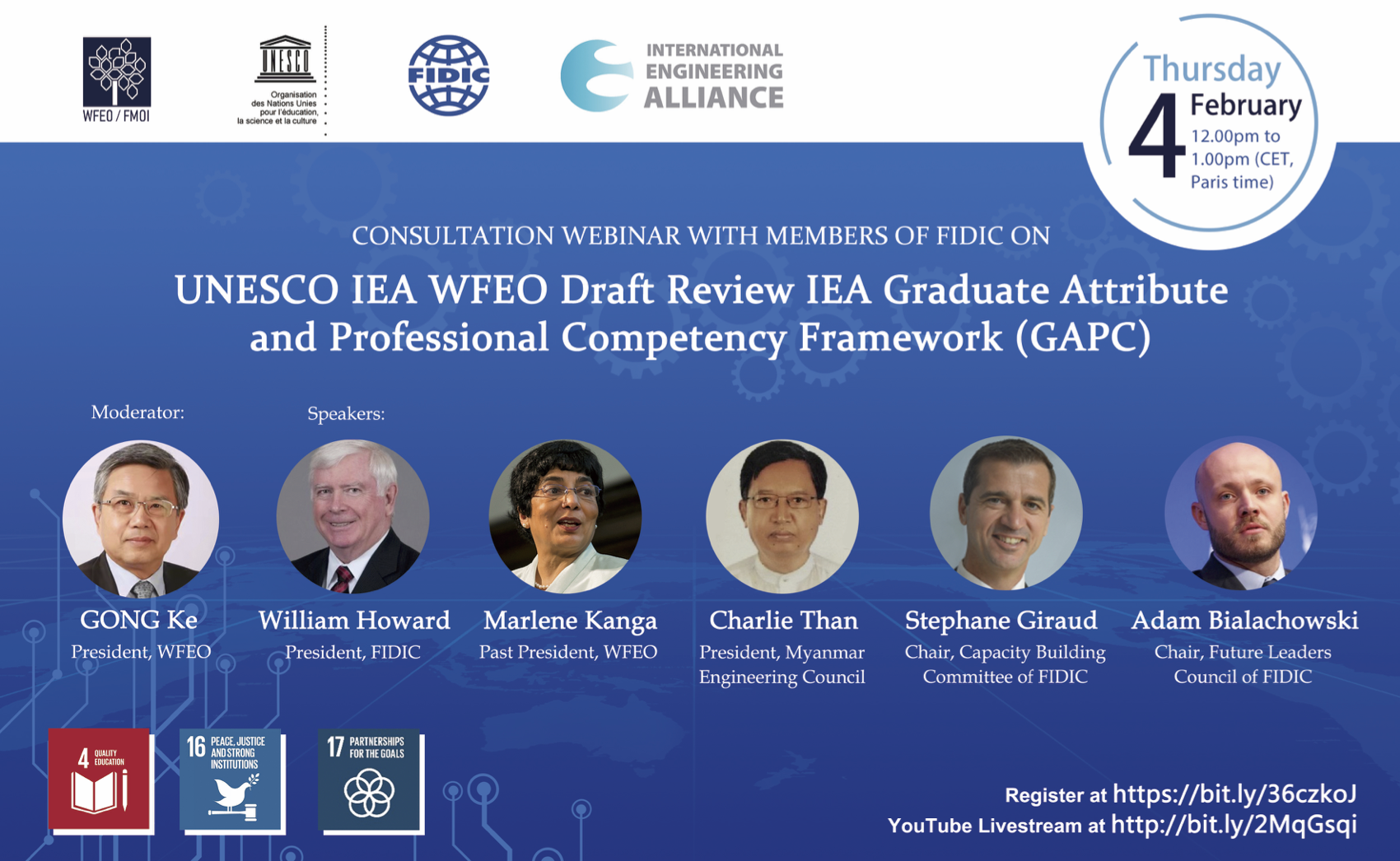 Description
The webinar will present an overview of the proposed revised competency Framework, explain the key changes that have been made, especially the requirements for professional competencies and lifelong learning and will be of particular interest to engineering employers who are interest in work ready engineering graduates who can meet the challenges of future technologies and changes in the way we work.
Consultation with WFEO Members and partners on Proposed Updated IEA Benchmark for Graduate Attributes and Professional Competencies (GAPC) is available in this page.
Moderator: Prof. Gong Ke, President, World Federation of Engineering Organisations
Speakers:
William Howard, International Federation of Consulting Engineers (FIDIC) President
Dr Marlene Kanga WFEO Past President – Overview of the Framework and proposed changes
Dr Charlie Than, (President, Myanmar Engg. Council, Myanmar), Proposed changes to Professional Competencies (Table 5) of the Framework
Stephane Giraud, Chair International Federation of Consulting Engineers (FIDIC) Capacity Building Committee, Overview of the new training and credentialing strategy of FIDIC as to Future Leaders, Contract Managers, Consulting Engineers, Trainers, DAABs (Dispute Avoidance and Adjudication Boards).
Adam Bialachowski, Chair International Federation of Consulting Engineers (FIDIC) Future Leaders Council, Keeping Engineering Education and Professional Development for contemporary and relevant for young engineers
Q&A
Webinar details
Time: Thursday 4 February 2021, 12.00pm to 1.00pm (CET, Paris time).
Register at bit.ly/36czkoJ
Youtube Livestream will be available at WFEO YouTube Channel.
For more information:
Consultation with WFEO Members and partners on Proposed Updated IEA Benchmark for GAPC
International Federation of Consulting Engineers (FIDIC) website
International Engineering Alliance (IEA) website