CAFEO 38 & ASEAN Women Engineer Summit
November 18, 2020

-

November 26, 2020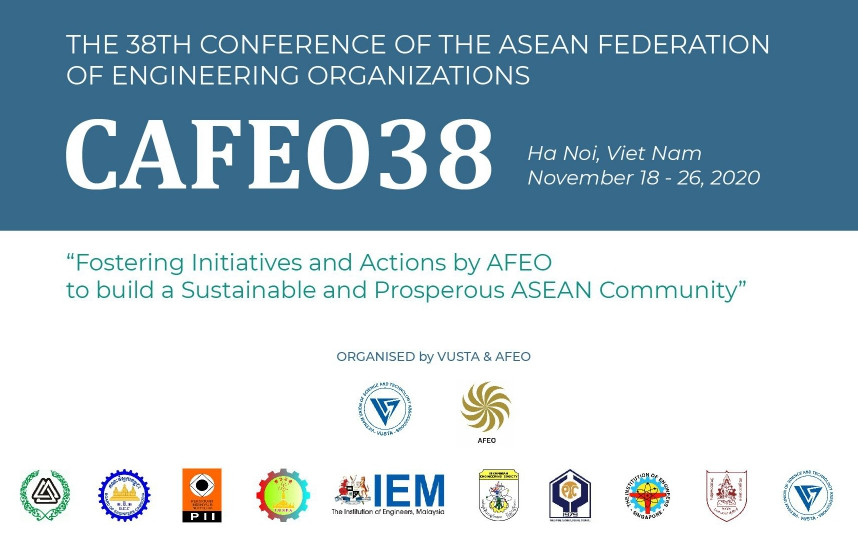 The Vietnam Union of Science and Technology Associations (VUSTA) will hold the 38th Conference of the ASEAN Federation of Engineering Organisations (CAFE038) virtually and in Hanoi, Vietnam, between 18 and 26 November with the theme of "Fostering Initiatives and Actions by AFEO to build a Sustainable and Prosperous ASEAN Community" with sub theme focus on the topics in sectors such as environmental engineering, transportation and logistics, smart energy and I4.0.
CAFE038 will be an opportunity for engineers to share their experiences and discuss technological measures in addressing today's challenges such as climate change, poverty, energy crisis, infrastructure insufficiency, economic downturn, inequality that no single nation, institution or individual can do.
The main topics will be:
Engineering for ASEAN future: Sustainability, diversity and high responsiveness
Future ready labor force: Innovative education for the next generation of ASEAN engineers
lndustry 4.0 in energy, energy efficiency, green environmental technology for climate and disaster proof and a resilient ASEAN
People centered connectivity: Advanced connectivity, technology and solutions in ICT, transportation and energy
In a series of events of CAFEO 38, one of the highlights of the Conference ASEAN Women Engineer Summit to be organized from 8:30 AM on 26th November, 2020, featuring the outstanding roles and endeavors of women engineers in the fight against Covid-19 this year.
WFEO President 2017-2019 Dr. Marlene Kanga will speak at the opening of the ASEAN Women Engineers Summit.

For more information: