28th IEK International Conference & 4th IEK Women Engineers Summit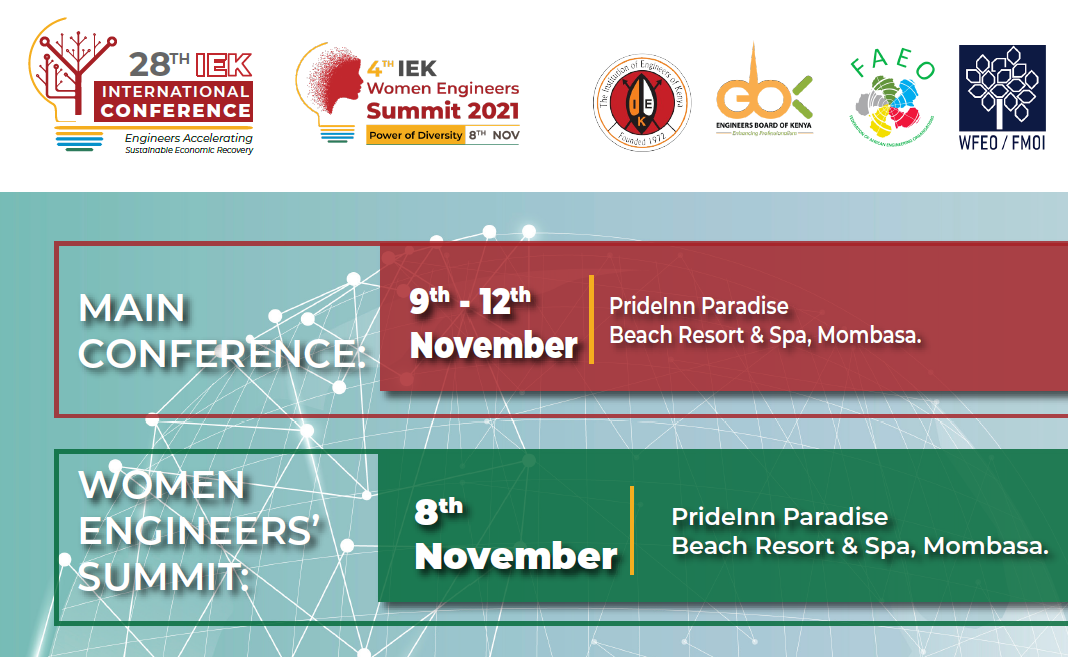 The Institution of Engineers of Kenya in collaboration with the Engineers Board of Kenya are organizing the 28th IEK International Annual Conference to be held on 9th – 12th November at PrideInn Paradise Beach Resort & Spa, Mombasa, alongside the 4th IEK Women Engineers Summit to be held on 8th November.
The Conference is one of the most important knowledge-sharing and networking events for Kenyan engineers and other professionals in the world of science and technology.
The event will feature distinguished keynote speakers and delegates from World Federation of Engineering Organization (WFEO) as well as Federation of African Engineering Organization (FAEO) among other international participants.
The Conference will be graced by senior Government officials, policy makers, regulators across various sectors, manufacturers, leading Engineering and technical experts from Africa and across the world. Our Partners and Sponsors stand to benefit immensely from the range of sponsorship categories formulated to suit various outreach targets. There will be a vibrant social program within the recommended health guidelines.
WFEO President Prof. Gong Ke and WFEO Immediate Past President Dr Marlene Kanga will be speakers at the Conference.
The event will highlight the following themes:
Engineers in policy Formulation, Planning , Economic Recovery and regional Integration.
Engineering Education and Research Academia and Development (incl. capacity Building and Mentorship)
Big 4 Agenda and Vision 2030
Fourth Industrial Revolution and Industry 4.0 (Smart cities & Artificial Infrastructure)
Engineers' role in Devolution and County Development.
More information is available in this flyer.
The registration page is available in this link